Best Series for Women to Watch this Winter
---
The cold months are quickly descending upon us all. While girls night out is still a thing…girls night in featuring a little booze and an awesome TV series to binge with your besties, is event better sometimes. It's time to pull out your cocktail recipes and cook up some appetizers for an evening at home. Not sure what to watch? Well, we've put together a list of our picks for the Best Shows for Women to Watch this winter.
we have watched every episode of each pick, so you know my recommendations come from personal experience and a passion for women's stories. If you are more in the mood for a movie, cue up one of these feminist flicks instead! Read on to find your next woman-centered adventure, create your own list of best shows for women to binge watch, then grab some popcorn, a cocktail and enjoy.
---
Our Top Picks! Don't Miss These Shows for Women
Midnight Mass (Netflix)
My love for horror movies runs deep. Between that, and the fact that I am an ex-Catholic School Girl, I couldn't help but stream this mini-series. The first couple of episodes centered heavily on the main male characters including Riley Flynn (Zach Gilford) who returns to his hometown, Crockett Island, after killing a young girl in a drunk driving accident. His arrival happens to coincide with Father Paul Hill's (Hamish Linklater), arrival. The young priest has been sent to town, to take the place of an elderly monsignor at St. Patrick's Church.
Shortly after the priest's arrival, miracles begin to take place in the town. But what should be joyous happenings, quickly turn sinister. Riley who is struggling with guilt and his lost faith reconnects with his old flame, Erin Greene (Kate Siegel), who is single and pregnant. She quickly become a central character who emotionally supports Riley while gradually taking notice that something is off kilter in the small town people's rush to religious fervor after each unexplained "miracle"
Somewhere around the middle of the seven part series the haunting plot line takes a strong turn after Erin's unborn baby inexplicably disappears and she, along with several of the seemingly "less important" female characters, take center stage. There's the bible thumping Beverly "Bev" Keane (Samantha Sloyan), who worships the young priest and offers up fire and brimstone monologues whenever possible, and the local doctor Dr. Sarah Gunning (Annabeth Gish) who is clearly the only science-savvy person on the island. Midnight Mass will keep you on your toes from beginning to end. Just when you think you know exactly where it's heading, the plot changes direction.
Fair warning: Midnight Mass is full of lengthy monologues. To be frank, I found Riley's whimpering ramblings annoying. But Erin and Beverly both give incredible performances, especially when it comes to their own monologues. Beverly's monstrous evangelical rants are riveting and almost a week after watching the last episode, I still find myself thinking about Erin's very last monologue which easily make this show worthy of making my list of best series for women to watch.
I'm not going to lie. This one took me a full episode or two to warm up to, but it won me over with its authentic inside look at family dynamics between women, which landed it on our list of best shows for women. This 8-part series follows the abduction of family-man Nick Brewer, and his sister, Pia Brewer, and wife, Sophie Brewer's quest to save his life and clear his name after a series of sinister and viral videos pop up with him holding signs indicating he wasn't much of a family man at all.
While this show initially comes across as a typical mystery with a strong message about the harms of social media, it quickly progresses into a thriller with twists and turns–and a completely unpredictable ending you will not soon forget. Viewers are likely to connect with the complicated dynamics between Pia and Sophie. And the show does a good job of highlighting the way gender expectations in relationship dynamics affect women and men differently in the public's eyes. If you are looking for series for women that comes with excitement, suspense, and female leads that you will love, hate, and identify with…choose Click Bait.
This TV Show sucked me in and spat me out 2 days later. Yep. I liked it so much I got sucked in for the long haul. A female-powered teen survival drama , The Wilds follows a group of teen girls from different backgrounds and traumatic situations who are forced to fight for survival after a plane that is supposed to be taking them to a summer camp crashes and strands them on a deserted island. The girls, much like girls do in real-life, bond and flight and bond, revealing more and more about each of them as the story unfolds.
This show has earned it's second season…thank the goddess! And for good reason. The acting is superb, the portrayal of the adolescent female experience lands true, and it's empowering as fuck. If you haven't put this on your list of best series for women to watch then, you've got to queue it up!
American Gods (Stars)
A goddess named Bilquis who eats men whole with her vagina earned American Gods a place on my list of Best Series for Women to binge.
Ok. Not really. But kinda. American Gods had me from the start with it's extraordinary visual style and otherworldly story line. Simply put, the story is about a large-scale conflict turned war between the Old Gods and the increasingly more powerful New Gods. Think ancient gods and goddesses vs. social media, globalization, and technology.
But, I'll be honest, as hot as the main character Moon Shadow (played by Ricky Whittle ) is and as charismatic Mr. Wednesday (played by Ian McShane) is, it's the female characters that really make this show work.
I'll admit it, I did stand up an shout, "This makes the binge-worthy shows for women list!" when Bliquis, a goddess of love played by Yetide Badaki consumed a man vaginally the first time, but don't let that one talent overshadow the mystery, sensuality, and incredible Black beauty the character brings to the show.
Laura Moon played by Emily Browning, also outshines her male counterpart…who is sort of annoying and dopey by comparison to Miss Moon's complex character who I think many women can identify with. And I was delighted by some of my favorite female actresses who popped up in awesome roles along the way including Gillian Anderson as the Goddess of media.
I slammed through all three seasons in a very short time. The good news is that the story is complicated enough, I think I could re watch it. I highly suggest you queue it up and find out why it makes our list for best shows for women.
---
Euphoria (HBO)
This show is hands down the best series for women to watch who have daughters entering adolescence. But that's not the only reason I think its one of the best shows for women to watch, I think every woman will get something out of it. "Euphoria" is an American adaptation of the Israeli show. It follows the life of a drug addicted 17-year-old girl named Rue who is just out of rehab. Additionally, the show focuses on her high school classmates each struggling with their own daemons. They include Jules, a transgender girl; Nate, a jock with anger issues and confusion around his sexuality; Chris, a football star transitioning to college; Cassie, whose sexual history continues to dog her; and Kat, a body-conscious teen exploring her sexuality.
Chances are you will see yourself and your friends in one or more of these characters. The best words to describe "Euphoria" are painfully hypnotic. It's real, raw, and strangely forgiving of each of the characters, even at their worst. Additionally, this might be one of the most inclusive shows I've ever watched. Entirely refreshing…in a heartbreaking kind of way.
"Euphoria" has a second season coming, but in the meantime, there are two specials fans can watch. I recommend you do.
Ok, ok, I'm sure it's no suprise that "Bridgerton" is considered one of the best shows for women who are horny…did I just write that? Well, it's kind of true. Look, I was actually shocked that I ended up loving this show so much that I decided it absolutely qualifies as one of the best series for women to watch while stuck at home during a pandemic.
Produced by the incredible Shonda Rhimes, the series follows the well-to-do Bridgerton family, consisting of a widow and her eight children, as they navigate the misogynistic expectations and gossip of the Regency era in English society. What really drew me to it was it's handling of the historical role of women in this particular society. It pulls back the curtain of romance and beauty to reveal the ugly underbelly this patriarchal society.
While "Bridgerton" is definitely a bubble gum watch in comparison to some of the other shows that make my list of best series for women to watch, it definitely does it's job as feminist entertainment while keep thing things fun for the home-bound.
---
The Third Day (HBO)
A must-see on our list of best shows for women, Jude Law and Naomi Harris star as the protagonists in the otherworldly psychological thriller set on the mysterious British island of Osea. Accessible only via a causeway that is submerged in water much of the time, the island is home to a group of strange and secretive folks that add extra creep to the already creepy setting.
Split into two distinct halves, "Summer" and "Winter", the first three episodes of The Third Day focus on Sam, played by Jude Law, who is a distraught father who has recently lost his son. After stopping a young girl from what appears to be an attempted suicide, he ends up on Osea where he soon finds out the locals have no intentions of letting him leave for reasons that will eventually be revealed. Over the course of the three episodes viewers learn the details of Sam's great loss and that he has a wife and children on the mainland waiting for him. They also learn that the island may (or may not) have special powers (the residents certainly think it does) and that Sam (and his inability to keep his dick in his pants) plays an important role in its history and future.
The first half, or "Summer", portion of this TV series is visually stunning, surreal and terrifying in a strange and disorienting way. But, it is really the second half, or "Winter", that makes The Third Day a truly binge worthy show with awesome female leads. Harris, who plays Helen—a single mother who takes her two daughters to Osea–delivers a performance that keeps viewers on the edge of their seats to the end. As a mom myself, I appreciated the honesty, relatability and integrity her character brought to the series. Helen embodies the anxiety, determination, guilt, and animalistic drive to protect her babes that most all moms feel at some point in time. With "Winter" portrayed in dismal yet striking visual scenes viewers will feel the cold and eeriness seep into their bones before the last scene plays out.
Every female character and actress –young and old–in The Third Day is exceptional. And Jude Law, brings his incredible acting chops to the table as well. It may have received luke warm reviews from other reviewers, but I promise that if you like scifi, horror or thrillers, then it's well worth your time. Fun fact: this chick powered series had a different director for each half. And that folks is how a show lands on the best series for women to watch list.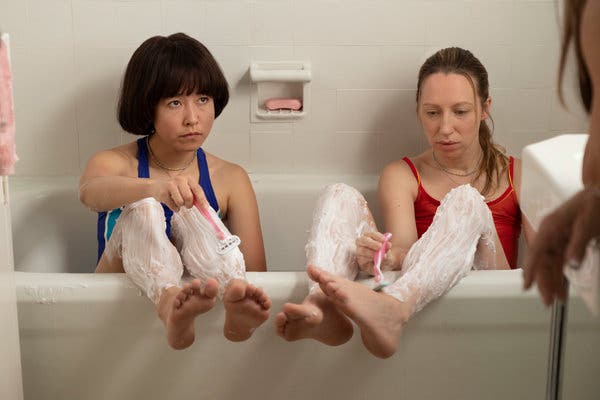 ---
First, I have to be honest with you. I was halfway through the first season of "Pen15" before I realized that the pen15 = penis (or is at least a play on it). So, I'm questioning why anyone would ever take my opinion about any show seriously. But seriously, I LOVED this show.
Set in a middle school in 2000, has Anna Konkle and Maya Erskine (both 31-year-olds) acting out only very slightly fictionalized versions of themselves in seventh grade. Every other middle school character in this series is brought to life by actual teenagers. The hilarious duo have known each other for many years and brought this show to life after sharing some of the most intimate and awkward middle school moments with each other during their undergraduate years.
The show truly captures the awkward, cringiness of those challenging middle school girl years, and chances are, you will see yourself reflected at least a little bit in most episodes. Like that one time my best friend and I thought we could cast curses on the people around us (my mother actually forbade me from cursing my sister after one worked and resulted my sibling being covered in spiders). Or that time I discovered masturbation (that's right…it is often discovered). There are episodes that cover both of these experiences and so many more. But the point is this. While the show often comes across as ridiculous, unrealistic and almost uncomfortable (especially when you realize the actresses are actually 30), it actually perfectly captures the untold aspects of the middle school experience–which most of us can agree was a really fucking weird time in life.
This show made me laugh and even scream with laughter at times. But, it surprised me a time or two when it made me tear up as well. It's addictive and cathartic, and I promise you and your girlfriends will love sipping those cocktails and sharing your own stories at the end of each episode. Go ahead, cue it up. It's totally a binge worthy best series for women (and some men).
---
Teenage Bounty Hunters (Netflix)
Hold the phone! This show might be one of the biggest surprises I've had in a long time. Look, I expected Away to be awesome. I mean Swank is running lead. But Teenage Bounty Hunters? Are you fucking kidding me? I was desperate for something to run noise on my TV screen while I worked late at night. I figured another dumb teen chick series to binge watch that was disguising itself as "girl power entertainment" would do the job. But, this series is truly one of the best shows for women I've watched since the Pandemic made life a real downer.
Fraternal twin sisters Sterling and Blair (Maddie Phillips and Anjelica Bette Fellini) are young, rich, pretty…and kind of smart-ditzy. They attend an uptight Christian academy in Georgia during the day. Then one night, they accidentally aid in the apprehension of a dude with a bounty on his head and realize they are pretty good at bounty hunting. Their Bounty hunter Boss, Bowser (Kadeem Hardison), works out of a yogurt shop that the girls' school runs, and ridiculousness ensues.
What's makes this show amazing is its witty, fast-paced dialogue combined with it's exploration of serious and timely issues. The writing is brilliant and includes plenty of innuendo-filled banter that keeps you laughing. But topics like girls sexuality, virginity, Christianity, racism, classism, misogyny, the LGBTQ experience, threesomes, non-monogamy, and the corrupt legal system are woven into each episode. Can you believe it?!
To my surprise, I'd find myself laughing one minute and then in deep contemplation the next. SPOILER ALERT: this show has one of the most touching "loss of virginity scenes" I've ever seen. I might have gotten a bit glassy eyed watching it. I KNOW women will love this. But if you want to watch something with your guy, don't shy away! Cue it up today!
---
---
---
With Million Dollar Baby actress Hillary Swank taking the lead in this Sci Fi Netflix series, I knew it was likely to pack a feminist punch and qualify as one of the best shows for women to watch. It did not disappoint. But, this show isn't just bare knuckle girl-power entertainment. It uses the vast expanse of darkness and isolation that space inflicts on those who explore it to illustrate the experience women have navigating the work, love, and parenting aspects of life.
Swank plays NASA commander Emma who is captaining the first mission to Mars. She leaves behind her adolescent daughter, and husband and work equal Matt, for what will be an three plus year trip. The show takes its time with the crew's step-by-step voyage from Earth to their final destination. The writers make sure you feel the weight of every decision Emma and her crew have to make. From bringing together a team comprised of alpha men and women, to battling the inner conflicts between the family woman/man and the driven history-making astronaut, you are likely to find yourself relating to Emma's challenges the whole way.
Once I started this series, I couldn't stop binge watching it until the season was done. Also, I am now more convinced than ever, I'd never go into space.
---
---
The Outsider (HBO)
I've been a Stephen King fan my whole life. I spent a large part of my adolescent years reading his novels, and whenever one would get turned into a horror movie, I'd watch it as soon as I could. When I found out that The Outsider was coming out on HBO, I was in. though slightly skeptical about its ability to land a place on my picks for best shows for women.
This more-than-binge-worthy series has an incredible cast that includes Jason Bateman (who also directs), Mare Winningham (I just want her to hug me every single day for the rest of my life), and Cynthia Erivo who steals the show as the lead female protagonist.
The story line begins with the investigation a gruesome murder of a young boy that seems to be straight forward. But, this is based on a Stephen King novel, so the murder is anything but straight forward, in fact, it's supernatural. The show is haunting and paces itself to build in intensity. Cynthia Erivo's character Holly Gibney, a compulsive private investigator who is open to the otherworldly. (and appears in other Stephen King novels) enters the series a few episodes in, but really steals the show. While the true lead characters in this series are men, it's the female characters that make it impossible to stop watching landing it solidly on my picks for best series for women to watch.
---
---
First, I have to admit, I was a fan of the movie Hanna. So, even as someone who is constantly searching for the best shows for girls, I went into this series with some doubts. The truth is, I have a little crush on Joel Kinnaman (plays Hanna's dad) and will watch pretty much everything he is in. So I cued up Hanna and was not disappointed.
The premise of this series that Hanna (Esme Creed-Miles) is a teenage girl who was raised in the wilderness by her father Erik (played by Joel Kinnaman). He has trained her to live off of the land and survive any threat that may come her way…especially if that threat is a team from a special CIA program that's been hunting for her her whole life. It should come as no surprise that this series will have you binge watching episode after episode packed with Hanna being chased, kicking ass and fully coming into an awareness of what a "normal" teen age existence looks like.
I binged season 1 of Hanna in 1.5 sittings. I took a little more time with season 2, which a thoroughly enjoyed specifically because of it's hard lean-in to girl power. Expect to meet Hanna's "sisters" in season two, and even come to kind of love/hate Marissa Wiegler (Mireille Enos), the CIA agent who initially led the hunt for Hanna in the beginning. Best news of all? Looks like we'll have a season 3 coming in the future as well, and I'm confident it will qualify for a spot on "the best series for women" list as well.
---
---
I Am Not Okay With This (Netflix)
If the idea of watching a show that feels like Stranger Things and The End of The F***ing World had a baby, then this is the series for you. Made by the producers of both of the aforementioned shows and based on a graphic novel by Charles Forsman, I Am Not Okay With This stars It's Sophia Lillis and Wyatt Oleff, and gives both of these beloved start the room to flex their acting chops.
Lillis plays Sydney, a teen struggling with her father's death and a strained relationship with her mother. Her one stable relationship with her best friend is changing…into a crush…while she simultaneously is coming into and discovering her own sexuality. Sydney's strong emotional outbursts manifest in telekinetic surges, which start to cause big problems in her life.
One of the most recognizable scenes that repeats itself until the end is Sydney running down the street in a dress covered in blood. The mystery of what has caused this gore-riffic scene will keep you binging all seven of the 20 minute episodes until you are at the end and hungry for more (thus it makes our best series for women to watch list). I promise, you'll LOVE Sydney and all of the main characters in this thrill of a series. It gets extra points for featuring a bisexual female lead character so perfectly! Hurry up with season 2 already will ya?
---
---
When you imagine the best shows for women to watch, you may not think they include high school dramas or thrillers. This 10-episode thriller will likely take you and your lady friends back to your younger years with it's bold expression of the adolescent female experience. Set in a small Midwestern town, Dare Me centers around the competitive world of high school cheer leading.
When new cheer leading coach, Collette French (Willa Fitzgerald) arrives to prepare the local high school cheer squad for competition, the interim leader of the team, Beth (Marlo Kelly), turns sour. Beth's best friend Addy (Herizen Guardiola), on the other hand, takes interest in the new coach and gets caught up in her drama along the way, while risking her connection with her childhood bestie.
Look, you are going to love and then hate and then love and then hate each of the female characters in this show along the way, but chances are, you'll see a little of your own story reflected in their experiences. Dare Me takes on the ugly (sometimes violent) complexities of the adolescent female experience with out pulling any punches. Drugs ✓. Bullying ✓. Sex ✓ . Sexual assault ✓ .
This suspenseful series allows the main characters to tell their story, hinting at a crime that happens along the way. I think Dare Me is a perfect pick for girls night. It's a conversational piece that is sure to illicit strong opinions, it's suspenseful…and regardless of how you feel about it, you'll keep coming back for more.
---
---
Even as I binge my way through numerous shows for women, this one remains one of my favorite picks for best series for women to watch. I'm sure you've already heard about Fleabag. You must have, because it is one of the best damn shows I binge watched in 2019. And it's stuck with me all of the way into 2020. To say that it's "binge worthy" is an understatement. This show won Golden Globes for Best Television Series or Comedy – Musical; Best Performance by an Actress in a Television Series – Musical or Comedy (Phoebe Waller-Bridge), garnered more nominations and won a bunch of Emmy as well. But who cares about all of that? Most importantly, one scene in, and it has won my heart.
The main character, played by Phoebe Waller-Bridge, and known only as Fleabag, is a thirty-something Londoner who is navigating sex, grief, and family dynamics all while trying to make a living. While this show is billed as a comedy, it's easily a dark comedy that female viewers will relate to, and likely find themselves both crying and laughing to.
Throughout each episode, Fleabag confides her true thoughts to the viewer, effectively making you her very best friend. In fact some of her side notes to the camera feel quite a bit like the belong in Locker Room Talk.
The bad news is that there are only two seasons. The good news is that they are both superb. The first deals with Fleabag's experience as she grieves the loss of her best friend. The second? Well…it's a love story of sorts. A Holy love story. Trust me. Call the girls, make up a pitcher of margaritas, and get ready for the best girls night ever.
---
---
This is the best series for women in their 40s to watch in my opinion. I actually re-upped my subscription to HBO just to watch this series, and I have zero regrets. Thank you Mrs. Fletcher! You binge worthy broad you!
Thank you for taking on the tired "cougar" stereotype of women in their forties and showing the world that women in their forties are sexy as fuck. And, god bless you for showing the world that women in their forties love to fuck. Also, hats off to you for showing the world that women in their forties watch and enjoy watching seriously dirty porn, are kinky as hell, and are badasses that know what they want and are done putting up with shit from men in their forties and pretty much the whole old-school patriarchy.
The rest of the details are unimportant…you know…the plot and stuff. But just in case you want to know, the series is about a single mom in her forties who is rediscovering herself after sending her son off to college. There are multiple interesting and intersecting story lines that follow complex characters like her son as he faces college and the undoing of how he thought the world worked.
This show has earned recognition as one of the best series for women to watch and is being championed for it's inclusivity and honesty. You are sure to fall in love with it.
---
Halfway through the first episode, I wasn't sure I was going to like this British dark comedy series. I couldn't tell if it was going the direction of being super campy or genuinely creepy. But, before I knew it, it was almost midnight and I had binge-watched the entire first season of the series.
This story is based on a graphic novel by Charles Forsman and follows 17-year-old Alyssa and James, who are both outsiders at their school. James believes himself to be a psychopath on the verge of becoming a serial killer, and Alyssa is an angry rebel with and overwhelming number of daddy/parental issues. Admittedly, I didn't like either of them at first. Alyssa's rebelliousness seemed bratty and James actually seemed super believable as a creepy serial killing kid.
But that's where the magic happens. Somehow I end up cheering for the duo as Alyssa takes us on her internal journey of self-awareness and growth. And James somehow sheds his hard-to-look at psychopath-in-the making exterior. The two become lovable heroes as they embark on an adventure to find Alyssa's father (who left her when she was small) and end up tangled up in dark, frightening events. Think rape and murder.
Alyssa emerges as badass young woman warrior, and James softens into a "clearly-not-a-serial-killer" kinda guy. Trust me. You'll dig it and get why it is clearly worthy of landing a spot on our list of best series for women.
---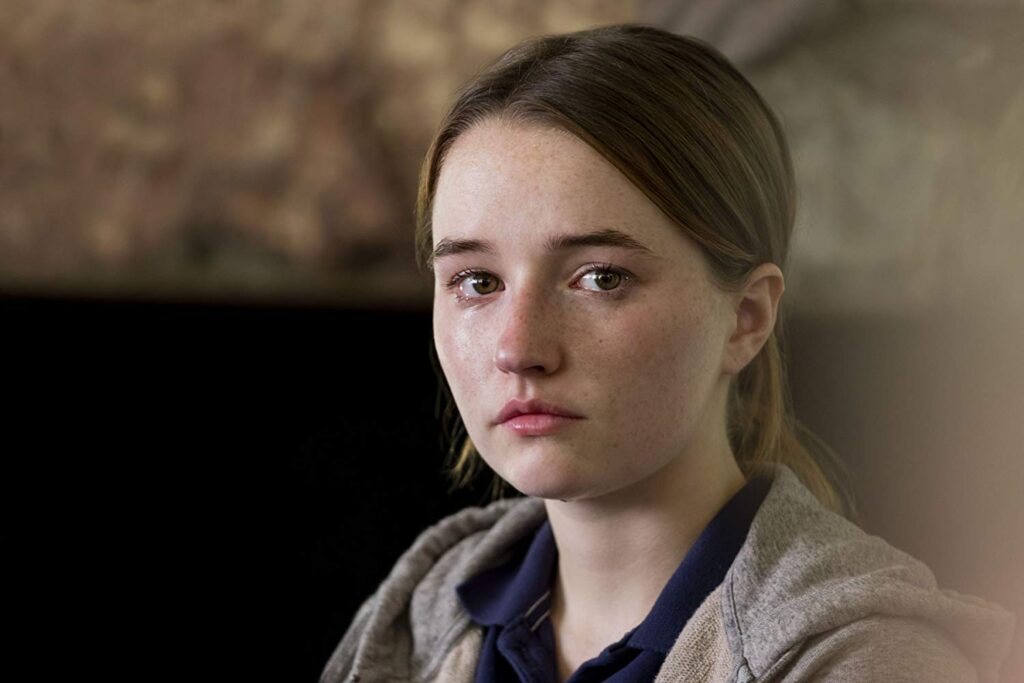 ---
There isn't one single person who should go without watching Unbelievable. This 8-episode series starring Toni Collette, Merritt Wever, and Kaitlyn Dever, recreates a the true story of a young woman (renamed Marie for anonymity) who was raped by a serial rapist, only to have the crime discounted by male policemen who then forced her to lie, and say she hadn't been raped. Only after two female detectives dig into the rapes, is Marie's truth unearthed and the charges brought against her dropped.
Based on a the 2015 article "An Unbelievable Story of Rape", written by T. Christian Miller and Ken Armstrong, the show is about series of rapes that took place in Washington State and Colorado. At the center of the story, Marie is a teenager with her own past trauma, who spent her youth in and out of foster homes only to be accepted into a transitional living setting where she is sexually assaulted. While viewers watch Marie's life come apart as everyone turns against her for her for lying about being raped, the story of the two female detectives who work together to find the rapist (and eventually Marie), commences.
If this isn't a girl-power series, I don't know what is. It's so incredibly impactful and applicable to today's social climate. Feminists, and allies alike will unite while binging this series. And it's a fantastic selection to suggest all of the men in your life, and individuals who worry more about false claims of rapes, instead of of actual rapists and their victims. I suggest you put it at the top of your list of best series to binge watch.
---
---
Glow (Netflix)
This is the best series for women who love to kick ass!Head back to the 80's with this girl-power packed series that will have you laughing and pumping your fist in solidarity. Ruth Wilder (played by Alison Brie), is an out-of-work actress living in LA and chasing her dreams when a chance at becoming a real star is dropped in her lap. Introducing the world of women's wrestling.
Glow tells the story of the birth of women's wrestling and the ladies who made it all happen. Working alongside 12 strangely matched women, Alison Brie's performance is on point and delivers lots of laughs, along with some serious lessons about chasing dreams, sisterhood, and the impact of competition between women.
This show will take those of you old enough to remember, back to the 80's. And for those who are just a bit too young to have experienced the glory days, you'll get a front row seat to the shit show that was the Gen Xer's youth. Enjoy!
---
---
I can't express enough how much I love this series. It's filled with strong (some murderess) female characters. The basics: Eve (played by Sandra Oh) is a spy who is tasked with hunting Villanelle (played by Jodie Comer) an employed serial killer/hit woman. But instead of becoming enemies, a sexually charged enchantment grows between them as their cat and mouse game ensues.
I guess you could call Killing Eve a cross between a serial killer love story and a spy/thriller. Sandra Oh has earned all of the accolades she has received for her role, but Comer, in my opinion, really makes Killing Eve exceptional. You can't help but feel as obsessed with Villanelle as Eve as Comer creates a strangely likable…even lovable but brutal and heartless killer out of her character. Dexter doesn't hold a candle to Villanelle. (And I loved Dexter!) So binge this series before season 3 comes out.
---
---
If you haven't watched the first season of this spectacular show, it's time to queue it up. Look, the reviews of the second season are mixed, but I don't care. The OA is definitely at the top of my "best shows to binge watch" recommendations .This story has a magical female lead (Prairie Johnson) played by Brit Marling, who is also its creator and producer.
In the first season Prairie returns after going missing for 7-years. When she vanished, she was blind, but upon her return her family is shocked to find her sight returned. Season one weaves the story of a kidnapped woman who falls in love while being held captive by a man who believes he has the key to unlocking the secrets of the universe.
Returned home, Prairie finds 5 willing participants to listen to her story and learn, what she believes, are key movements that will return her to her lost love. Make sense? It shouldn't. Just trust me: the story will captivate you.
I devoured season two in a single day, and its even more intense and mind bending than the first. I laughed, cried and hurt my brain trying to keep up. If you like scifi, you'll love The OA.
---
---
I'm going to be honest. I haven't watched every episode of this series yet. But, it's so good I couldn't wait to recommend it. If you are a mom in any phase of parenting, and you aren't watching this show, you are doing yourself a huge disservice. By the end of the first episode, I had laughed, cried, ugly cried, and laughed while crying at least a couple of times. While this show is clearly a comedy, it is brutally honest. It captures the reality of a variety of "types of moms" trying to survive and thrive in the modern-day parenting world. It's unapologetic in its depiction of modern-day moms, and the result is a show that all moms can relate to. This is seriously a "must see" for anyone who has pushed a small human out of their vagina…or thinks they might want to.
---
---
Who is sick of misogyny in the workplace?! I am! Small spoiler alert—in the end, there's a little dose of satisfying revenge.
Julia Roberts plays Heidi Bergman, a caseworker fresh out of school and hoping to climb the corporate ladder. She works at the Homecoming facility: a place that is supposed to help soldiers transition back to civilian life.
This story begins after Bergman has left her job, moved in with her mom, and started working as a waitress. Things start to unravel when the Department of Defense comes to investigate the real reason why she left and she begins to remember a forgotten past. This is a great mystery that is also a pretty quick watch, with 10 episodes that are only about 30 minutes each.
---
---
Thank the stars for Margret Atwood! It's no surprise that her work has given another show that ranks as one of the best series for women to watch. She gave us The Handmaid's Tail, which was turned into an award-winning show, and in 1969, she managed to pen the book that would eventually give us this enthralling series. One of the things I love most about Alias Grace is that, though it's certainly a time-piece, it forces viewers to examine the complexities of womanhood and the consequences of misogyny.
Alias Grace tells the story of a poor Irish immigrant girl—Grace Marks—who attempts to support herself as a domestic servant in Canada after being tossed out by her abusive father. She and a man named James McDermott are convicted of killing her employer and his housekeeper (who was also his lover). Grace is sentenced to life in prison, and her tale unfolds as a psychiatrist attempts to determine whether she should be pardoned due to insanity. You will find yourself wondering, right alongside the psychiatrist, whether she is innocent, guilty, possessed, or completely crazy.
Based on actual 19th-century events, Alias Grace makes you take a hard look at the history of the treatment of women. You will have a hard time peeling yourself away from this one.
---
---
This mini-series is based on a novel by Gillian Flynn. I read it shortly after it was published and fell in love with her work. When I found out it was being made into a series, I was skeptical. But, I love Amy Adams, who plays the lead character, so I decided to dive in as soon as it came out. It was absolutely captivating.
Amy Adam's performance as Camille Preaker, the emotionally-unstable reporter who is tortured by her past, is spot on. I thought she might have difficulty overcoming her natural "good girl" feel, but she embodies the role perfectly. Everything from the cinematography to the soundtrack transports viewers to Camille's hometown—Wind Gap—in Missouri, where she has returned to cover the story of two young girls who have gone missing. While she is there, she is forced to deal with her own dark past and mental illness while she unravels the mystery.
Once you start this show, you won't be able to stop it. Go into it prepared: it's dark.
---
I'm not going to even pretend that I watched the 1990's sitcom version of this story. Its many iterations never caught my attention before, and most certainly wouldn't have made my recommendation best series or best shows to binge watch. But, this new version had me hooked immediately. I'm not going to lie, I was skeptical at first. As a 44-year-old woman, I feel a bit silly watching teen-witch or teen-anything shows, but The Chilling Adventures of Sabrina is straight-up adult. And by adult, I mean the female characters are strong (all of them), the storyline is creepy, and the feminist slant is not subtle.
This show is scary (really scary at times) and a bit gory. That's one of the things I like most about it. It plays with being kind of campy, but then quickly shifts and becomes downright chilling. In fact, I would classify some of the episodes as horror (one of my favorite genres). It's refreshing to watch female characters of all ages and ethnicities kick ass in a thriller/horror show, rather than scream and cry and trip and die. So if you like your shows a little scary, with plenty of kickass women, give this series a try. I think you'll agree is qualifies as one of the best series for women.
---
---
Look, I was an X-Files fanatic back in the day. I watched every episode, planned my Friday nights (while in college) around the show, and mourned and mourned after it was taken off the air. So it will always be considered one of the best series ever to me. I don't care what any of the other reviews say: I think season 10, and especially season 11, were great.
Season 11 felt a lot like the old show to me, and I made my way through the episodes in the blink of an eye. I love X-Files for plenty of reasons, but I love it mostly for Gillian Anderson. First, she is totally one of my most beloved sheroes. She has proven to the world that women do get better with age (Gillian, please, please share your secret with us). Second, her character is intelligent, strong, sexy, emotionally intelligent…you name it, and she's got it. Every woman wants to be her. Well, at least I do. If you want a couple of highly entertaining, supernatural nights, I recommend you put these last two seasons on your list of best series for women to binge watch.
---
---
While the lead character is a man (Marty Byrde) who is seemingly caught up in a man's criminal world, it is the women that make this show truly excellent. From dissatisfied wife, Wendy Byrde, played by the incredible Laura Linny, to the hardened young Ruth, played by Julia Garner, to the deadly Darlene Snell, played by Lisa Emery—the women own this show. You will likely relate to each of them; love them, loathe them, fear them, and eventually want to be like one of them or the other. Season 1 hooked me, but the women really took the lead in season 2 landing it on my list of best series for women to watch. You can get a good week of watching out of this nail-biter of a series.
---
---
Chances are good that you've heard of this show, but have you watched it? If not, link up with HBO and dive in. The female protagonists in this series are seriously badass taking it to the top of our list of best shows to binge watch. The characters explore all of the different facets of womanhood as they slowly begin to discover the nature of their reality and then set out to explore the boundaries of their world and the world beyond. Watching each of the female characters evolve is fascinating and horrifying. I found myself wondering what it would take for me to grow in the same direction they do. Love, sex, motherhood, survival: what would you kill for?
---
---
Dakota Fanning's character, Sara Howard, made this murder mystery and easy pick for best series for women to binge watch. Watching her character — a trailblazer attempting to climb the ladder from her position as the first woman hired as a police secretary to Theodor Roosevelt, to the first female police detective — is truly inspiring. It's actually quite relatable, as well, as we are all currently watching a long list of women become "firsts". In general, the show is solid, focusing on Alienist Dr. Kriezeler as he attempts to catch a serial killer. But Fanning's performance as a strong, capable and ambitious woman doesn't disappoint.
Fanning isn't the only female character to take note of in this series. Mary Palmer, Dr. Kreizer's housekeeper, played by Q'orianka Kilcher, is subtly essential to the whole storyline, and Kilcher's performance, as well as her character's story, stayed with me for days.
---
The Obvious: Best Shows to Binge Watch
The following have been covered by every female-leaning pub, but we definitely didn't want to leave them out of our list of best series for women to watch:
Read More…
THE HOUSTON 19: 19 BLACK WOMEN WIN JUDICIARY SEATS
2018 MIDTERM ELECTIONS: WOMEN WHO MADE HISTORY
GOOD READS: 'PURE LAND' REVEALS TWO WOMEN'S TRUE GRIT
Please follow and like us: