A Cure for Cold Hearts: Winter Soup Recipes
---
Baby, it's cold outside. Like freezing. Everywhere. Large areas of America are experiencing their lowest temps ever. Every other post in my social media feed has something to do with snow and the blistering cold temps. We've even had our own little dump of the fluffy stuff here in the Pacific Northwest. In fact, no one in Portland was out on the roads this morning except for hipster men sporting man buns and driving cars that were meant for only the most well-paved and ice-free streets on earth.
I could go on forever. But, instead of talking about the hazards of this year's snowpocalypse, I want to take this opportunity to warm your frigid, angry hearts. How do I plan to do that? Well, with the very best and most easy-to-make winter soup recipes that I could find.
---
---
Mostly, I just stalked my girlfriend's social media pages and begged them for some good winter soup recipes, but whatever. Look, I don't like to cook. Between kids and jobs and dogs and life stuff, I can barely keep my house clean let alone find time three times a day to cook. But man, I LOVE to eat. And this time of year, winter soup is everything to me.
A good winter soup recipe is like a hug from the person you love most but on the inside. It calms the nerves, makes the white holy hell outside look a bit more like a wonderland, and helps get me through to spring. So, this time of year, I'm willing to go the extra mile and do a little time in the kitchen (notice, I said little.)
---
4 Easy Winter Soup Recipes
---
The following are 4 easy-to-make winter soup recipes that will warm your bitter cold souls.
---
---
Potato Soup
---
This winter soup recipe is Recommended by Susan Herrmann Zimlich who found this recipe on Fun Home Things. She suggested adding 1 ½ tsp garlic. We noted the change below.
---
Ingredients
1 3/4 c. instant mashed potatoes
1 1/2 c. dry milk
1 Tbsp. chicken bouillon granules
1 1/2 tsp. onion powder
1 Tbsp. dried chives
1/2 tsp. ground black pepper
1/2 tsp. salt
1/8 tsp. red pepper flakes
---
Directions
This recipe is originally designed to create a soup mix in a jar that you can give away as a gift. So, the basic directions are to combine all of the ingredients above, mix and then put them into a mason jar for gift giving. Here, we are mostly interested in getting to the eating part. So once you have all of these ingredient mixed, here is what you do next:
Put 2/3 rds cup the mix into a bowl and stir in 1 cup of boiling water until smooth and done!
So simple. And you still have plenty of instant potato soup mix just waiting to be made for later.
---
---
Carrot-Ginger Soup
---
Writer and editor Andie Huber contributed this delicious soup.
Serves .
---
Ingredients:
32 ounces of chicken stock (vegetable stock if you want to make it vegan)
1/2 white onion,
diced 2 cloves of garlic
smashed 8 medium-sized carrots
2-inch ginger root,
peeled Split 4 carrots into half.
---
Directions:
Drizzle carrots with olive oil, salt and roast carrots for 30-minutes in a 425-degree oven. Combine chicken stock, diced onion, smashed garlic cloves and peeled ginger root in a pot on the stove. Simmer for 20 minutes or until onions and ginger root are soft. Add roasted carrots to pot and let pot cool. Cut ginger root in half (put 1/2 back in—throw away the other half unless you like it super gingery) Transfer the contents to a blender (I use a Nutribullet and do it phases since it all won't fit) Store soup in an air-tight container up to four days.
---
---
Tortellini Soup
---
Contributed by Larson Faye Williams
I used a large Insta-pot to cook it but you can use a Dutch oven or large crockpot. This recipe makes about 8 cups, so you may want to cut it in half.
---
Ingredients
2 quarts of chicken stock
6 Oz of fresh spinach
1 T of minced garlic
1 20 Oz package of premade tortellini (I like to use the 3 cheese blend)
Two cans of stewed tomatoes (I like to use a pint of small cherry tomatoes cut in half)
---
Directions
Use basil, salt, and pepper to season to taste (about 1tsp of each). I also add about a ¼ tsp of crushed red pepper.
Add all ingredients in a large pot and cook on the stove for about 30 min (the Insta Pot takes about 15).
Top individual bowls with Parmesan cheese.
---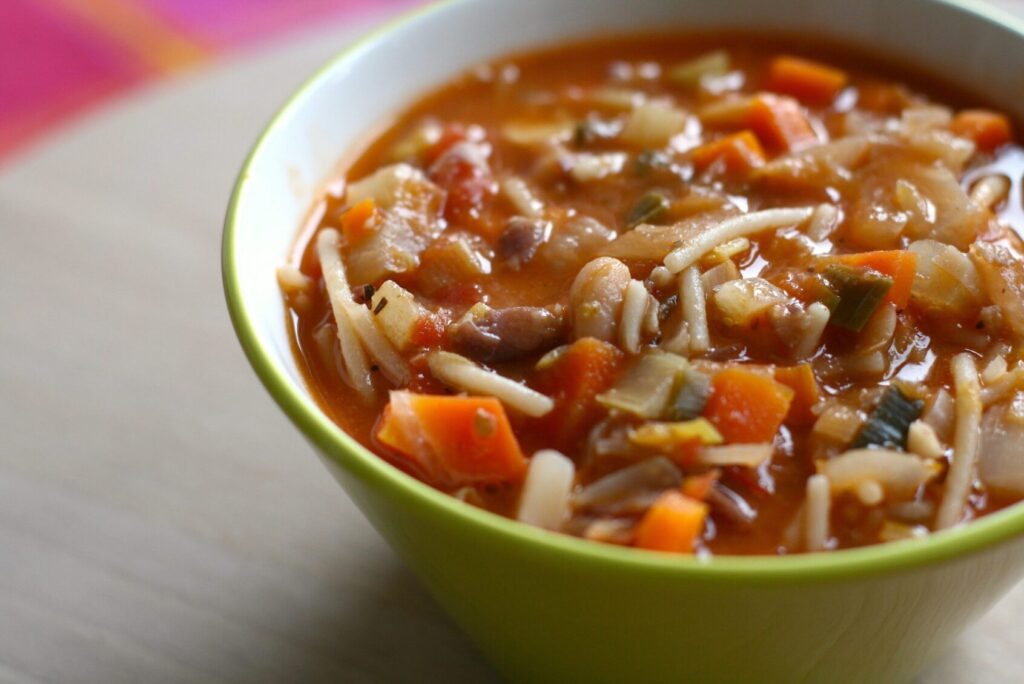 ---
Minestrone Soup
---
Winter soup recipe contributed by Eli Edlund
I love minestrone because you can user any veggies you like, frozen or canned, and any different beans. It's super flexible. I use pre-mixed Italian or pizza spices for extra easy seasoning.
Ingredients
1 tablespoon canola oil
1/2 medium Onion finely diced
2 ribs celery sliced
3 large carrots peeled and finely chopped
2 teaspoons salt
1 teaspoon minced garlic
1 teaspoon dried parsley
1 teaspoon dried oregano
1 teaspoon dried basil
1/8 teaspoon black pepper
2 cups fresh spinach finely chopped
28 oz canned diced tomatoes
4 cups low sodium chicken broth
540 ml canned red kidney beans rinsed (about 2 cups)
1 1/2 cups Rotini pasta dry
Parmesan for serving
---
Directions
Cook and stir the oil, carrots, celery and onion in a large pot over medium-high heat until the onion has softened. Add salt, garlic, parsley, oregano, basil, and pepper and cook 1 minute. Next, add the spinach, tomatoes, broth, and beans. Cover and simmer over medium heat for 10-12 minutes or until carrots are tender.
Stir in pasta, cover and simmer for 10 minutes or until pasta reaches desired tenderness. Serve with shredded Parmesan cheese as desired.
---
READ MORE
Please follow and like us: